Taurus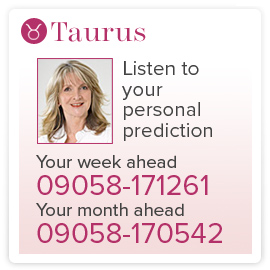 BT calls cost 75p per minute and last about 4.5 minutes. Calls on other networks vary.
Pluto is at a favourable angle to your sign, which has the effect of making things come right in the end, although it can take a long time to reach that happy point. With this in mind, more than one event currently taking shape may not pan out quite as you think.
Always a cautious sign, your ability to be patient could come in more than handy now. A situation may have reached breaking point, and how you respond could make all the difference between holding it together or sending it over the edge.
From now until the end of September, a series of powerful aspects enables you to start a new page in your life book, so it is inevitable that some things must be left behind.

Check your six month horoscope