Aries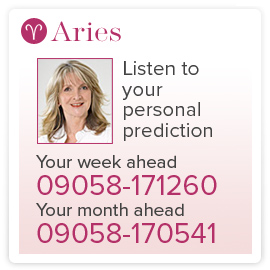 BT calls cost 75p per minute and last about 4.5 minutes. Calls on other networks vary.
Arians are not always good at long-term strategising – you are the sprinter of the zodiac, the quick-fix genius. However, you would benefit enormously from looking at a current situation through a long-distance lens.
Perhaps a result is taking far too long to materialise; maybe someone is not as anxious as you to make a commitment, but in your impatience you are potentially undermining your own success.
Likewise, if you experience a rejection or disappointment now, don't get mad, but learn from the experience, and strengthen your weaknesses. With the right attitude, it may be possible to salvage something from the endeavour; you may even be able to get it back on track.

Check your 2012 horoscope