Pisces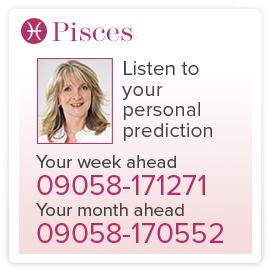 BT calls cost 75p per minute and last about 4.5 minutes. Calls on other networks vary.
If you're heading out to the travel agents, don't be surprised if you meet a clutch of Pisceans. The signal has sounded for the big getaway, whether you're booking a trip for later in the year or picking up your tickets.
The area of communications is in the spotlight, marking the start of a period in which some members of the Fishy clan are going to be studying hard and others will be adding to their bank of knowledge and experience.
There could be an important message winging its way to you or maybe it is you who has something significant to say to someone else. Either way, the unexpected and the unusual are also part of this week's star agenda.

Check your 2012 horoscope