Capricorn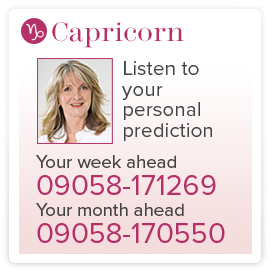 BT calls cost 75p per minute and last about 4.5 minutes. Calls on other networks vary.
It's time for a change. The new season should be inspiring different activities and a change of wardrobe, which should in turn contribute to a whole new outlook. And if not, why not?
According to your solar chart, the moment has come to focus on those things that please you, those things that bring joy and warmth to life, and sometimes this takes effort. You have to work at making time for fun.
Saturday's new moon marks the start of a brand new cycle, first and foremost linked to the creative side of life. Aside from the prospect of a new baby entering the family circle, there could be fresh projects that demand your unique input, even a breath of romance.

Check your 2012 horoscope