Sagittarius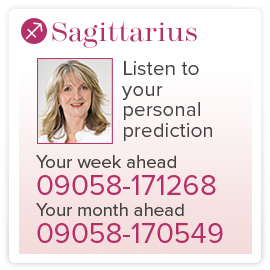 BT calls cost 75p per minute and last about 4.5 minutes. Calls on other networks vary.
Shocking people may not be your intention, but how many times in the wake of one of your fearless moves have people admitted they couldn't believe you would dare do such a thing?
Most of the time, of course, your bold actions result in a brilliant success, but just occasionally you end up with third degree burns. Which is a long-winded way of advising you not to do anything in a heartbeat this week.
Take your time. Think through the consequences of your actions. If you're still ready to take a risk or make a splash, go to it! There is also a chance that you will be on the receiving end of an unusual turn of events: if so, be your chilled and lovely self.

Check your 2012 horoscope