Gemini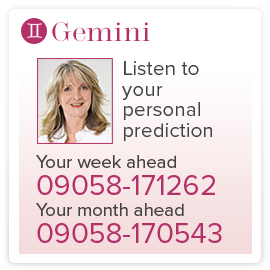 BT calls cost 75p per minute and last about 4.5 minutes. Calls on other networks vary.
Are you feeling inspired? With the sun's arrival in the mystical 12th house, you're beginning a four-week period in which your unconscious mind is in charge, and working very hard to make you aware of the subtleties of situations.
It's the little things that make a huge difference to an eventual outcome – that off-the-cuff remark, that small anomaly – and by picking up on signals early enough, you can capitalise on them.
Provided your impulse is a positive one, and not geared to getting back at someone who may have hurt you, you should obey it. Likewise if an opportunity or an invitation appears unexpectedly, don't dismiss it because it isn't perfect.

Check your 2012 horoscope