Aquarius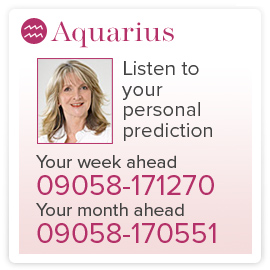 BT calls cost 75p per minute and last about 4.5 minutes. Calls on other networks vary.
When Mars is riding high, actions speak louder than words. Should people hold firm opinions, they won't be in the mood to discuss them – they'll act on them. And you could be among that number.
Never one to compromise or accommodate those whose ideas are poor, it won't take much to push you over the edge. Maybe this is indeed the right moment to put a relationship on the line; even so, a little thought of the consequences wouldn't go amiss.
Money could be at the centre of this week's ups and downs, and should you be dealing with financial institutions or people with whom you share monetary commitments, expect them to take a tough line.

Check your 2012 horoscope