Scorpio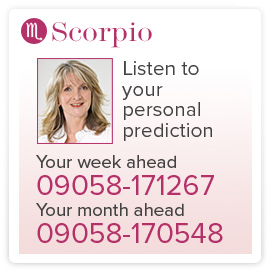 BT calls cost 75p per minute and last about 4.5 minutes. Calls on other networks vary.
You should be on fighting form and ready to tackle situations, warts and all. Does this sound like an easy week ahead to you? No, you'd be right: it's a tough as titanium!
Even if you're feeling at peace with the world, you'll notice that other people are quick to take offence and unprepared to ignore a minor infraction, and since you are one of the more passionate signs of the zodiac, you will no doubt benefit from this heads-up from your astrologer.
Whenever Saturn is in the mix, hard work and facing realities are par for the course. Your job, however, is to recognise when there is a good purpose behind any difficulty or criticism, and where the line has been crossed between being real and being negative.

Check your 2012 horoscope