Virgo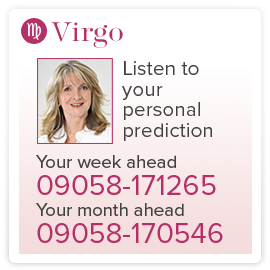 BT calls cost 75p per minute and last about 4.5 minutes. Calls on other networks vary.
Knowing you face a challenge puts you in a winning position, whether you have people to impress, minds to change or a task to accomplish akin to cleaning the Augean Stables.
Virgo tends to work best on the defensive, and your preferred role is one behind the throne. However, with Mars now back on form, you are in the driving position. Other people will be impressed by your authority and determination; this is not the moment to lose heart or lose steam.
If you meet with resistance, push forward; and if someone takes an unexpected pot-shot at you, fire back with attitude. You'll be surprised at how good it feels to be the one on top.

Check your 2012 horoscope