Aries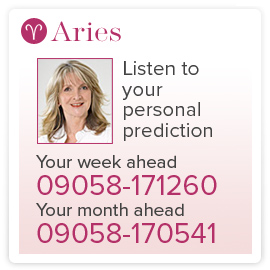 BT calls cost 75p per minute and last about 4.5 minutes. Calls on other networks vary.
You need to be on the ball and in possession of the facts. It may be that you are required to put your signature to paper or provide information of a legal nature – either way, this is no time to busk it!
Some Arians could be about to make a long-term commitment of a business or romantic kind, in which case Saturn is on hand to help the agreement prove lasting and binding.
On the other hand, this could turn out to be a difficult time for an association. You have a tendency to lose patience and enthusiasm too quickly, so although you don't want to throw good money after bad, it may be in your best interests to nurse a situation through its present problems.

Check your 2012 horoscope