Scorpio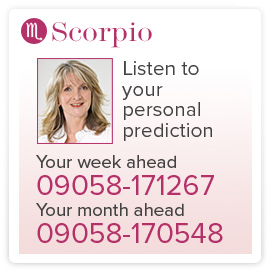 BT calls cost 75p per minute and last about 4.5 minutes. Calls on other networks vary.
It may be a little early for the season to change, but you might pick up a fresh scent in the air this week. Life is moving forward at a pace, and even if there are still some factors that seem relentlessly stuck, your attitude to them is breezier.
This shift has much to do with the new moon in the fifth house of creativity and self-expression, an event that will recharge your enthusiasm and get you moving on projects that are close to heart.
And speaking of the heart… Some Scorpios look set to meet a new love or see a love affair enter a new and more committed phase. It's not always possible to have all your ducks in a row before you launch into open water, but you have enough to make a start.

Check your 2012 horoscope