Libra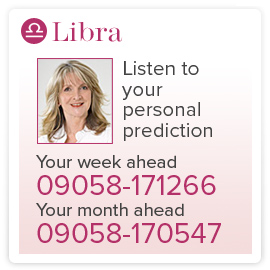 BT calls cost 75p per minute and last about 4.5 minutes. Calls on other networks vary.
According to your solar horoscope, all the new energy streaming into your life is focused on work. However, your actual birth chart could tell a very different story. Whatever the area, though, the theme will be the same – new directions.
New Year is normally the time we make affirmations and turn over a fresh page, but this latter part of February is ideally suited to kicking over the traces of the past and building the future.
Relationships are still the big story, so if you've had something of a bumpy ride in recent weeks, you should be on the road back to happiness and harmony. Don't waste time in painful post-mortems – just get on with the business of loving.

Check your 2012 horoscope