Some of the best hotels in Sri Lanka are off the beaten track, and require a little bit of thinking outside the box in order to enjoy their luxuries.

In the name of research we've done a lot of the hard work for you and visited some Sri Lanka hotels that have been making waves recently as some of the most beautiful spots to rest your head at night.

Whether you prefer large resort-style accommodation or small boutique offerings we've rounded up a little bit of something to suit everyone. But they've all got one thing in common: fantastic service, fabulous views and the finest details in the rooms and around the public areas.

If you're willing to do a little travelling you can easily visit all of our picks of the best hotels in Sri Lanka in two weeks, working from the top to the bottom of the list as you experience central and south Sri Lanka.


Ceylon Tea Trails Review: Hatton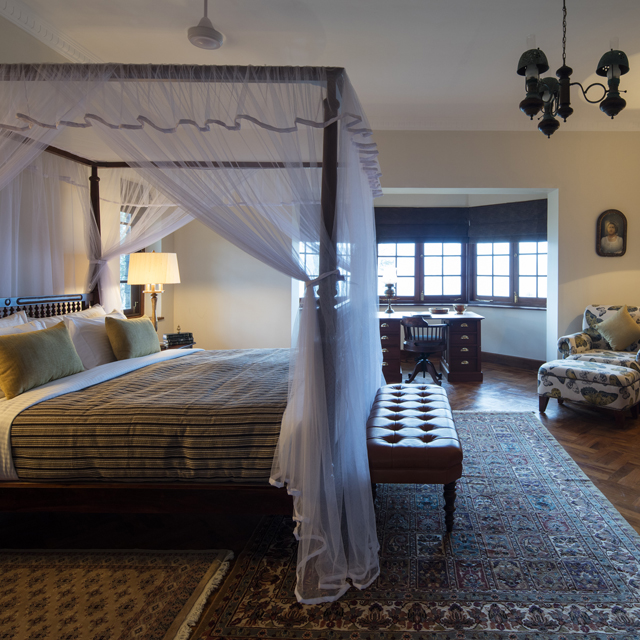 Set in Sri Lanka's hill country The Ceylon Tea Trails is made up of five luxuriously restored colonial era tea planter residences, each one unique in style. Our favourite is Dunkeld, the newest addition to the family, which is perfectly perched for panoramic views of the turquoise Castlereigh Lake below, and comes complete with an expansive infinity pool tumbling off the edge of the garden, and a gently bubbling Jacuzzi to best enjoy the views from.
But aside from the sensational service the one thing that sets the Ceylon Tea Trails aside from the rest of the pack is their world-class service.
In each residence guests are looked after by butlers who will oblige on almost any request - from daily ironing to organising excursions.
Each of the limited number of rooms (there are five in Dunkeld) are large and generously proportioned with beautiful, turn of the century detailing. Think deep roll top baths, polished wood furniture, beautifully upholstered wing backed armchairs and sumptuous four-poster beds, made up with layers of feather pillows and thick cotton bed linen. Each room has its own outdoor space and some have fires - which your butler will be more than happy to light for you when the evening draws in.
Thanks to their high hill top positioning the bungalows enjoy warm, hazy days and cool, refreshing nights (although when packing, throw in an extra jumper - it can get chilly). The living room's crackling log fire and comfortable leather lounge suite will ensure you feel suitably cosy though, and if you need further assistance to warm yourself up from the inside, staff are on hand to put together your favourite aperitif whenever you need them.
Everything you'll need while staying is included in the price, and a lot of things you don't need. Each visit includes breakfast, lunch, afternoon tea and dinner as well as all the drinks and snacks you can manage to get through, unlimited laundry and tours of the estate's tea factory. Meals are usually served on the bungalows' verandas, but should you mention you like the look of that little table under a tree nearby, or fancy breakfast in bed, your butler will speedily set things up to your liking.
There is a down side to all this however, at some point you'll have to leave. And life without a butler is significantly sadder than life with one.
Things to do:
If you can drag yourself out of your king bed at 1.45am (and forgo the tea in bed offered to guests every morning by the butlers) Adam's Peak is an hour's drive away and offers stunning views of rolling hills appearing through tea bush covered mountains at sunrise. Tea Trails will organise a driver and a guide to help you on your way. A word of warning: Even for the relatively fit this is a tough climb, taking two hours of conquering unrelenting stairs to reach the top.
For those who appreciate the restorative powers of sleep the bungalows are each set amongst trails for varying lengths of gentle walks amongst the neatly clipped tea bushes and tropical fauna, which can be undertaken at any time of the day.
Complimentary tours of the estate's tea factory are included and offer a fascinating insight into the production of our nation's favourite drink, as well as providing a handy opportunity to pick up some pretty gifts.
Staying closer to home the properties offer many a way to while away the days. From croquet on the expertly manicured lawns to pool on one of the polished billiards tables; there's something for everyone.


What to eat: Because of the limited number of guests you'll be treated to making up your own menu if and when you fancy taking control. Each morning the resident chef discusses with guests what they would like for their next two meals, giving them a suggested sample menu to kick things off. Meals are always generous and leisurely, and both lunch and dinner are three course affairs. The Sri Lankan offerings are particularly tasty and perfectly spiced.

Outside of meal times make sure to treat yourself to some gin sours before dinner, accompanied by a bowl of the chef's cashews. The drink is sharp and sour with lime juice and the nuts are toasted with fragrant spices and fried curry leaves for a sublime little snack.

How to get there: A car might sound like the more temping offer from the airport; but the bumpy, winding train beats a bumpy, winding car any day. Hop on at Colombo amongst the commuter crowds and spend five hours making your way past some of the most beautiful scenery this paradise island has to offer. First class is comfortable and air conditioned with seats that swing round when the train changes direction – so you're always facing forward – to keep motion sickness at bay. When you reach Hatton there will be plenty of Tuk Tuks and taxis eager for your custom, or alternatively the hotel will happily provide a driver to pick you up.

For special trips the hotel can also organise air transfers from Colombo airport.

Price range: From £525/night at www.resplendentceylon.com/teatrails


98 Acres Review: Ella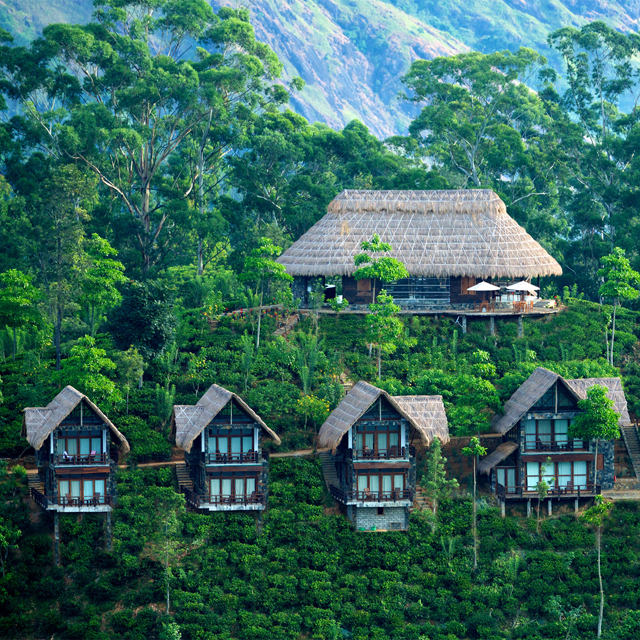 A series of stilted jungle huts make up this luxury eco resort and the development ensures that all rooms enjoy spectacular scenes of Little Adam's Peak and the famous Ella Gap. On a clear day views extend for miles towards the southern coast, where paddy fields begin to replace the upland tea plantations.
Most rooms boast generous proportions, which is just as well as the super king-sized beds with local tea boxes for headboards need large homes. There are few additional details to make the rooms feel luxurious but the crisp white bed linens and dark wood interiors are spotless and comfortable – and really you're here for the setting.
Bathrooms share the same vista as their neighbouring balconies in most cases, with windows that open entirely to the hazy emerald green scenery in front. Although lovely, this could be detrimental to hot-water consumption if guests lose their thoughts while gazing out from the comfort of a rainfall shower.
The pool offers a nice place to relax after a hike and is a rare facility for resorts in this area, owing to the cooler climate. Attendants will happily move loungers into shade or sunlight for you and lay out towels.
Things to do:
Guests can choose between a short stroll up Little Adam's Peak or a more challenging hike up the larger, more imposing Ella Rock, which looms down on the former from its cloud-crusted peak. Both provide spectacular viewpoints of surrounding hilltops, particularly of a morning when mountain ridges typically rise out of a blanket of low-hanging cloud and views are not yet impaired by the afternoon haze.
The grand (and imaginatively named) Nine Arches Bridge is also a short walk from the resort. It is a triumph of engineering for the Sri Lankan railways that spans a plunging, green valley in this remote area of the central highlands. Once down at bridge level you can walk the tracks and take in the scenery from a whole new vantage point.
What to eat:
A short ride by golf cart or a quick clamber up the many stairs from the bedrooms will deliver guests to the restaurant, bar and swimming pool. The bar and restaurant is a one-stop shop for breakfast, lunch and dinner, serving a variety of Sri-Lankan, Eastern and Western dishes.
For breakfast the hoppers are really very good, freshly made for each guest amongst the usual buffet offerings. Made in small wok-like pans from a fermented batter they're soft and fluffy on the bottom with crispy sides. A little like the perfect combination between a fat pancake and a crepe, served with all sorts of traditional accompaniments – including a fiery red chilli sambol.
How to get there:
For us, there is only one means of transportation that should be taken in arriving at 98 acres: the railway line. From Colombo, through Kandy and Hatton to Ella it is an atmospheric journey that is often heralded as one of the best in the world for its scenery. You'll travel past waterfalls, tea plantations, rocky mountain peaks and low lying farms on this incredible route.
At each station hawkers will pass by the windows offering snacks and some are really very good. Ulundu vadai are little doughnut shaped patties of fried lentil flour flavoured with cumin and curry powder. Served in stapled together sheets of maths homework and finished with raw red onion and curry leaves these are unlikely to cause any unpleasant effects.
Children dressed in immaculate uniforms are often seen wandering the tracks too, looking for friendly tourists to give them a helping hand in their pursuit of an education. Bring a pile of pens to hand out and you'll be rewarded with many well wishers.
Price range:
From £150/night
Cape Weligama: Weligama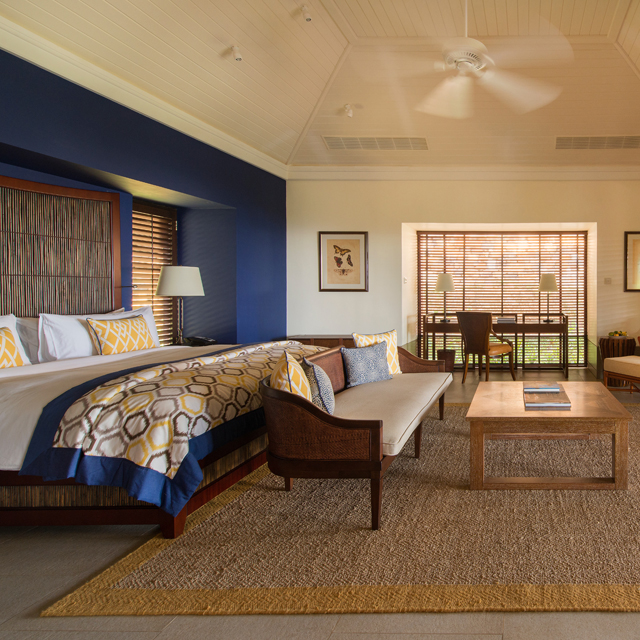 Sitting proudly on a wild piece of headland on the country's south coast,
Cape Weligama
combines world-class service with fantastic facilities and stunning views.
What was jungle just five years ago is beginning to transform in parts into a few hotels amongst some of the world's prettiest beaches and this resort might just have the best situation of all. Uninterrupted views of the Indian Ocean lay ahead of the cliffs, while traditional stilt fisherman work away in the waters below. To one side of the hotel there is a small series of rocky-backed coves, fringed with jungle plants that are often entirely deserted. To the other side there's a small, gently sloping beach of soft sand which offers up some fabulous snorkelling.
The resort is made up of 20 villas and a handful of suites to keep with the parent company's – Resplendent Ceylon - ethos of making sure guests feel just that, like special guests. All rooms are similarly furnished in dark woods with jewel-like accent colours coming from beautifully detailed scatter cushions in golden yellows and peacock blues. Throughout there are technological touches to make sure your stay is a seamless one, too. Sonos sound systems are set up in each room, air conditioning is of a proper scale and comes through vents rather than one rattling box and all bathrooms are equipped with a huge walk-in shower come steam room.
These bathrooms take getting ready for dinner from a perfunctory act to a pleasure. As large as the bedrooms in most cases each one comes with double stoneware sinks, huge gilded mirrors, deep baths, dressing table areas, fold-down massage beds (for when everything gets too much and you can't make it to the spa), those steam room showers and walk in wardrobes. Guests are also treated to a complimentary laundry service, no matter what the board option you're on, so leaving clothes in the marked box will ensure clothes are back, washed and ironed within 24 hours.
Things to do:
Cape Weligama puts special emphasis on their activity offering to cater to all kinds of guests' ideas of fun and allows one complimentary choice per day. Their dedicated activity centre on the beach will willingly arrange guided snorkelling, whale watching boat trips, expert-lead cycling tours and scuba diving taster courses among many more.
What to eat:
There are two bars and two restaurants at Cape Weligama, as well as the option of in-room dining, which means enjoying meals from the comfort of your own private, plushly-furnished terrace under slowly whirring ceiling fans.
Twice a week the hotel offers a seafood grill, which is not to be missed. Set up in a pavilion adjoining the main restaurant piles of freshly caught seafood and shellfish are offered up in an impressive boat display. Guests are free to pick and choose their favourites from a bounty of treats like lobsters, king prawns, tuna, crab and the local jack fish. Ask the chef for as a little or as much as you like, and of varying things and he will then cook it to order for you. Have it simply grilled with paired-back seasonings like olive oil, lime juice and pepper, take it stir-fried in a salt and pepper batter and a sweet, stick Asian sauce or plump for a traditional Sri Lankan curry.
How to get there:
With no notable station close by your best bet will be to make your way there in a car. From the airport it's around a three hour drive and if you arrange it through the hotel you'll most likely be picked up and dropped off in a spacious, air conditioned 4X4, which is much more comfortable than your average Sri Lankan taxi.
Price range:
From £360/night at
www.resplendentceylon.com/capeweligama
Maya Villas Review: Tangalle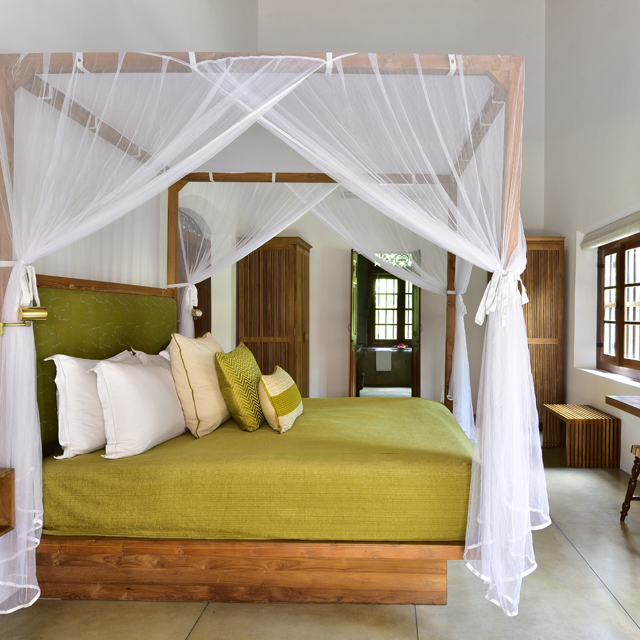 If luxurious touches and design-lead décor are your thing, then Maya is for you. Set in five acres of lush tropical gardens this renovated colonial-era stately home is one of Sri Lanka's few boutique offerings and is perfect for romantic getaways.
Just five rooms open up onto the L-shaped swimming pool (cleverly designed for lounging at one end and laps at the other) meaning you'll never have to get up early to secure a sun lounger.
Owner Nikki Fairchild is an interior designer and it shows in every small detail of the hotel. From full feather pillows covered in thick cotton cases on the four-poster beds to the beaten copper candleholders laid out everywhere to light the property at night, nothing has been left to chance. Bathrooms are huge, with polished concrete floors and walls for a modern, high-end finish and each room comes with gorgeous natural products to pamper yourself with in the huge rainforest shower.
There are various areas to relax around the property for when you're tired of your bed: The airy, square verandah offers up a plush sofa and armchairs for reading in at night, or watching a film from (staff are more than happy to arrange a TV set up if and when you fancy). Out in the gardens there are swings, swaying hammocks, antique chairs and vintage loungers scattered out between trees and over the lawn meaning that every guest can feel perfectly peaceful if and when they fancy solitude. If you persevere with your relaxation long enough you may well be rewarded with a view of peacocks dancing among the bright green paddy fields.
Things to do:
Maya isn't near anywhere else, making it the perfect haven for real relaxation. In keeping with this the hotel offers massages in a purpose-built pavilion overlooking the lush tropical scenery or yoga at sunrise, taught by world-class instructors. For trips further afield the hotel offers guided outings to the close by beaches, temples and beautiful local walks.
What to eat: With a small but dedicated team the kitchen produces some really exceptional global cuisine. Dishes like richly spiced prawn Thai curry sit alongside three cheese risottos to cater to every taste.

Our favourite bite came in the form of afternoon, however. The hotel's signature rosemary cake is not to be missed. Moist madeira sponge is lightly fragranced with this heady herb for a complex yet subtle flavour that makes having just one slice nearly impossible.

How to get there: For a truly Sri Lankan experience make your way to Maya via a Tuk Tuk. Prices are cheap and the experience a fun one. You'll be able to enjoy all the slights, sounds and smells as you whizz by the countryside in your open air vehicle.

Price range: From £180/night


Vivanta by Taj: Bentota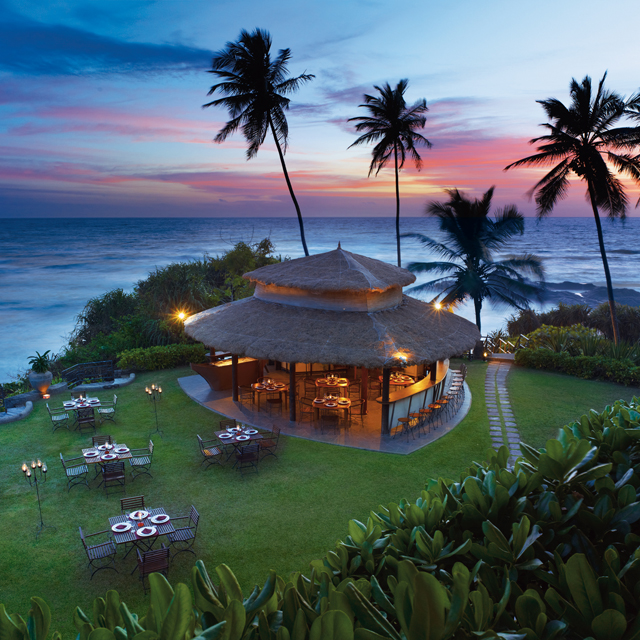 Owing to its relative proximity to the major international airport and its long stretches of sun-kissed, clean and quiet beaches, Bentota is a very popular destination for tourists to the island. A number of hotels have developed in this prime location between the golden sands and a large salt-water lagoon isolated from the sea. The pick of the locations, taking advantage of a rocky outcrop on the edge of two beach stretches sits Vivanta by Taj.
The hotel has hundreds of rooms, 3 restaurants, a large swimming pool, well equipped gym, luxurious spa and plenty of activities on offer too. The benefit of a resort this size is most definitely the facilities and range of offerings; from the food and drink to the excursions.
Rooms are well-sized and most offer balconies with stunning views of the ocean below. Beds are made up in crisp, cool cottons and bathrooms are modern and well equipped with the little extras that make your holiday that bit more enjoyable. 24 hour room service and flat screen TVs ensure you'll never be left feeling like you're wanting for anything.
Things to do:
Vivanta offers a vast array of activities, ranging from waterskiing on the nearby lagoon to tennis lessons on the on-site courts. Direct access to Bentota beach and dedicated water sport and fitness staff creates a veritable buffet of pastimes on which to feast. Aside from the hotel's offerings, the beautiful and quiet beaches in the Bentota area also provide guests with the opportunity to seize their own dreamy seaside spot. Of an evening, bands often play in the Tease Bar and an acoustic quartet will serenade diners in The Shack.
What to eat:
The pick of the restaurants at Vivanta is The Shack, an open-air seafood restaurant where diners are invited to select their dish from the catch of the day, as part of a five-course dinner. The choice doesn't stop their: you'll also have to choose the marinade for your catch. We'd recommend the local speciality, the creamy black curry sauce. Also within the resort are a Chinese restaurant and a rooftop restaurant offering a mix of western and local dishes. The majority of restaurants in the Bentota area are attached to hotels or villas, so if you want to dine outside Vivanta during your stay, you may find yourselves playing imposter at a neighbouring hotel.
How to get there:
The easiest way to reach Bentota from Colombo international airport is by private car, which costs roughly SLR 10,000 (roughly £55) and takes under two hours. For those travelling from Colombo, there is a direct train line from Colombo Fort to Bentota, but this is more of a commuter line, so don't expect to share your carriage with like-minded tourists as you might on the railways near Ella.
Price range:
From £180/night
Sri Villas: Bentota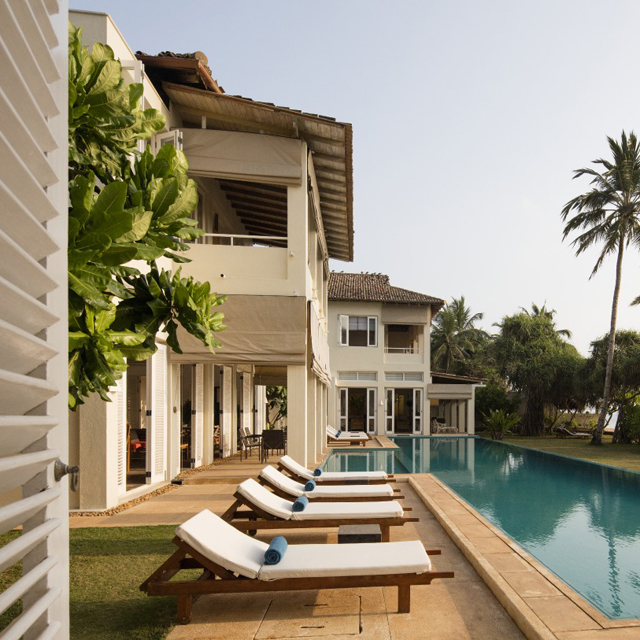 Just fifteen minutes down the coast from Bentota sits Sri Villas, a collection of three converted villas offering a mix of room and suites to cater for couples, families and groups alike. The villas can't and don't try to compete with the breadth of facilities offered by the large hotels of Bentota, but instead offer a tailored, personal service in a quiet location on a near deserted beach on the outskirts of Induruwa.
Rooms are airy and bright thanks to their vaulted ceilings and huge windows while bathrooms are luxuriously large and offer walk in rainfall showers and double sinks.
Each villa has it's own friendly and efficient butler who will gladly help to organise meals, activities and transport at the drop of a hat which makes you feel like you can truly relax.
Things to do:
As spectacular and deserted as the beaches are, the Western coastline is troubled by some strong undertows that make some of the beaches unsuitable for swimming. You'll need to chat to the locals to find out their recommendations for swimming areas. One thing's for sure, you won't have many others to share the beaches with!
Failing a swim, the beaches are very popular for a stroll or a longer walk. The majority of the coastline south of Bentota is one long beach; your walk would only be punctuated by short detours around or scrambles over odd rocky outcrops. You're also sure to have to stop to make conversation with inquisitive locals, who will try to tend to your needs with fresh coconuts, Ayurvedic treatments, sightseeing tours or sometimes all three!
Comfort can also be taken from the fact that the main coast road is only ever a few dozen metres from the shoreline. So if you were to feel tired, thirsty or ready to put the feet up, you're always able to head to the road where you are sure to find a tuk-tuk to carry you home.
It turns out that it's not only we who think the beaches in this area are the perfect spot. Many a female turtle agrees with us and they return to the West coast, the place of their own birth, to lay their eggs in the golden sands. The nearby town of Kosgoda is famed for its shelled visitors and tourists flock to the local hatcheries to see the hatchlings take the first flap of their flippers. Cute as the newborns are and as good is the promise of releasing them into the sea, the jury is out on whether some of these privately run conservation centres are focussed on protecting turtles or on profiteering from their vulnerability. We'd recommend you research your choice in advance.
What to eat:
The villa offers a limited selection each day, but the choices are varying enough to somehow suit everyone's tastes. Piles of fried papadoms are accompanied by home-made chutneys while piles of fresh salads dressed in lime juice and chilli are perfect to enjoy by the generous infinity swimming pool in the heat of the day.
How to get there:
Pick up a taxi from the airport and jump in a tuk-tuk from Bentota.
Price range:
From £95/night