Buffet Recipes
says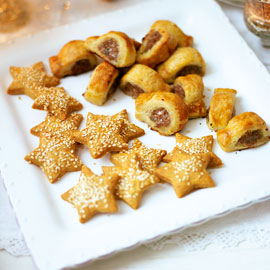 Buffet recipes for when you're expecting a crowd and want easy recipes to share, including easy finger food and sharing dishes that work well hot cold. These easy recipes can be made ahead, laid out on a table and enjoyed while standing and mingling.
The great thing about a buffet is that the food is so casual and informal that people can spend time enjoying themselves and talking to lots of different people, rather than sitting down for a full meal, which is more formal and be hard to manage if you've invited more people than you have spaces for at the table. In this way, holding a buffet is a simple way to entertain a crowd and means you can get everything ready before anyone arrives.
So what are the buffet essentials? Make several large salads to share, such as a filling pasta salad or potato salad, which is easy to make in larger quanitities. Coleslaw is also a firm favourite so try our variations on the classic, including a lightened up version for anyone watching their calories... Everyone expects a sausage roll at a buffet and they're a real crowd pleaser. Make yours extra special with a homemade version with a twist, such as using chorizo instead of sausage meat as the filling. Our chorizo sausge roll recipe is so easy, but the results will have everyone going back for seconds.
Sumac chicken skewers make the perfect finger food, as does anything on sticks - they are just easier to pick up if you're holding a plate or glass in the other hand.
Don't forget desesrt! Cupcakes are a good option as they are individual servings and it means no one has to have the job of cutting a cake and trying to work out how many slices you'll need to go round. It's a much easier and hassle-free choice! Chocolate peanut cupcakes are always a favourite as they bring together everyone's favourite flavour combination. Or make no bake mini chocolate and salted caramel tarts to share, in perfect bite-sized pieces.
Create simple, hassle-free but delicious buffet food with these recipes. Which will you try?