Barbecue Recipes
says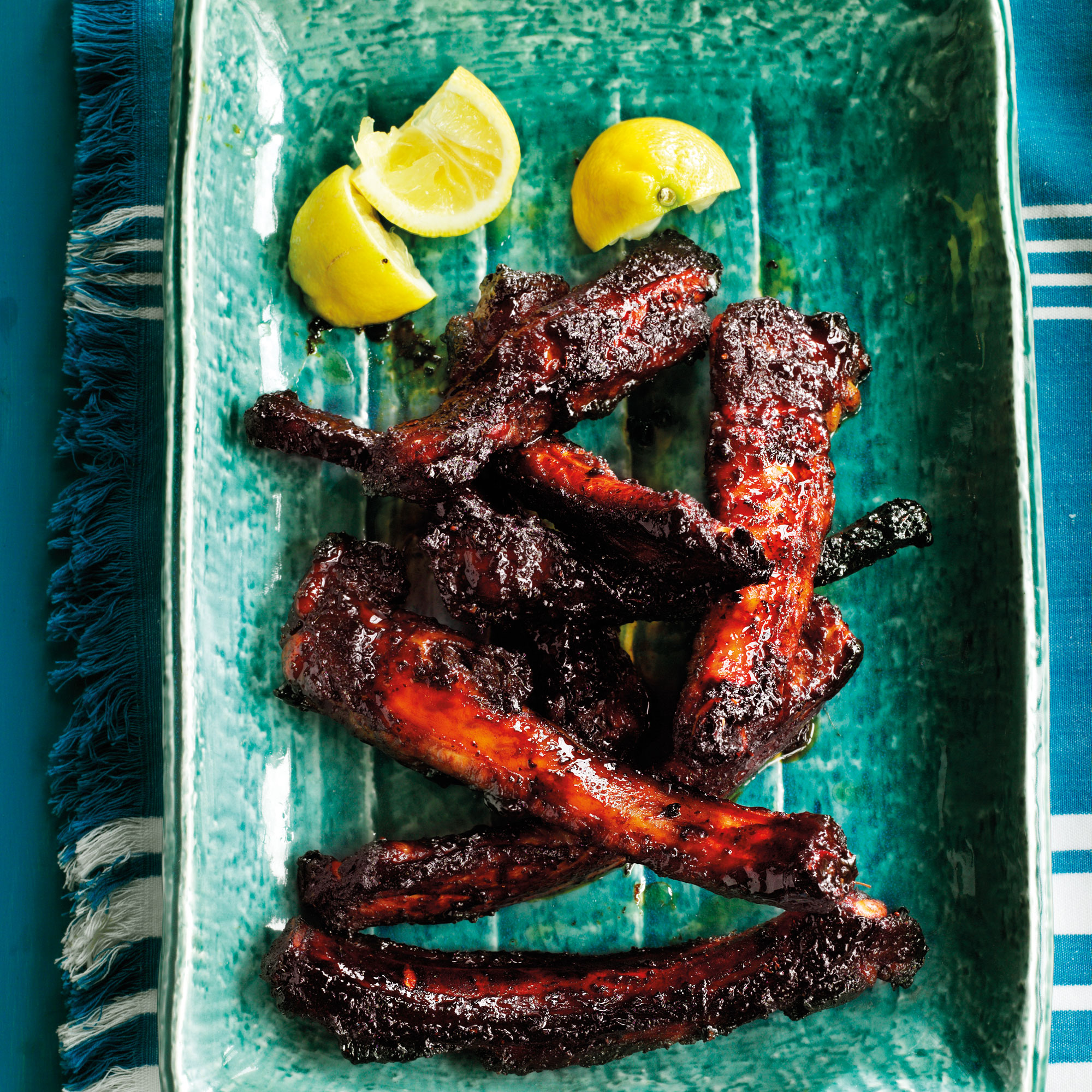 Barbecue recipes to enjoy in the company of good friends and family, including king prawns with a Thai dipping sauce, smoked hickory chicken wings and Cajun ribs with a molasses marinade.
There's no better way to spend the weekend, whether it's a short notice get together on a sunny summer day or a winter barbecue, when you can wrap up warm and gather in the garden with barbecue food and hot cocktails.
Everyone loves a barbecue but there's so much more to it than reaching for the readymade burgers and sausages. Make homemade marinades that taste so much better than anything shopbought, including our recipes for harissa marinade, teriyaki marinade and chimichurri sauce for grills. Bring your barbecue up to date with a bit of theatre, like beer can chicken or chilli and cumin marinated lamb skewers, which make an interesting take on basic kebabs.
Don't overlook fish as it can help bring new flavours and textures to the table, such as chargrilled sardines with lemon and sea salt or a whole fish with mango, olive and tomato salsa. Or for a vegetarian option, you can't beat grilled halloumi, barbecued Portobello mushrooms or vegetable skewers for a barbecue favourite all round.
Give your barbecue that extra edge by carefully picking out some substantial salads and barbecue side dishes, such as a simple pasta salad recipe with feta and roasted veg or a fresh cucumber salad with feta, black olives and mint. Or surprise your guests by jazzing up classic corn on the cob by melting over chilli and lime butter – the chilli gives it a little kick while the lime instantly cools it.
Top off a superb lunch with our barbecued pineapple recipe – the bite-sized chunks are so moreish and by grilling it on the barbecue, you'll really bring out its sweetness. Your barbecue will be a hit if you follow our recipes for easy, delicious food that is guaranteed to impress.
Delicious Barbecue recipes
Barbecue recipe collections
Chicken wing recipes are a barbecue favourite, but they don't just have to be saved for when the weather is nice - enjoy them year round cooked in the oven
Take your barbecue to another level with some of our delightful barbecue recipes; from chicken to seafood and steak, we've got the ideal recipe for your barbecue this weekend
Find salad recipes that are filling, refreshing and very tasty, whether you're making a big bowl to share or preparing a quick lunch for one
Barbecue hero and midweek staple, try our favourite recipes that celebrate the humble sausage
Try our veggie and fish recipes for the barbecue - oh so tasty and not a banger in sight!