Banana Recipes
says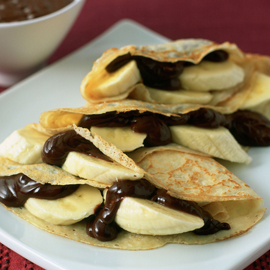 Not just for the fruit bowl, exotic bananas are just delicious in cakes and decadent desserts. Our divine chocolate banoffee pie features a chocolate shortcrust pastry, layered with fresh bananas, toffee sauce and chocolate cream – it's definitely one of our favourite recipes!
If you like the sound of this, you'll love our banana bread cake with butterscotch icing, our banoffee Swiss roll, and our divine chocolate banoffee pie. Delve into our tempting collection of banana recipes to find the perfect recipe for you.
Bananas pair perfectly with sweet ingredients, like chocolate and honey, and its relationship with toffee is so enticing that everyone knows them as 'banoffee.' Adding a sprinkling of cinnamon to our spiced banana bread recipe also brings out the flavour of this sweet and creamy fruit, and a touch of sea salt perfectly balances our banana bread cake with butterscotch icing.
You only need half the amount of the sugar in our banana oat muffins, compared to ordinary muffins if you're looking for a lighter, healthier snack. The same goes with our chocolate chip and brazil nut banana bread, as bananas are already a naturally sweet fruit and so lend their own sweetness to our desserts.
Blended with creamy milk, bananas transform into a tasty breakfast smoothie, packed with potassium, fibre, vitamin B6 and C, which provides a great start to your day. Our banana and pear milkshake is really creamy and delicious and the combination of banana and pear is a really good one.
They also go great on pancakes, especially when combined with the tart soft fruits in our blueberry and banana pancakes with caramel sauce. A
lways store your bananas in a separate fruit bowl as they can cause other fruits to ripen too quickly. And if your bananas have turned brown, don't throw them away. They'll be just right for using up in our cakes, bakes, and other delicious banana recipes.