Sticky Toffee Pots
We've updated this classic sticky toffee recipe with a sea-salt caramel sauce – totally on-trend!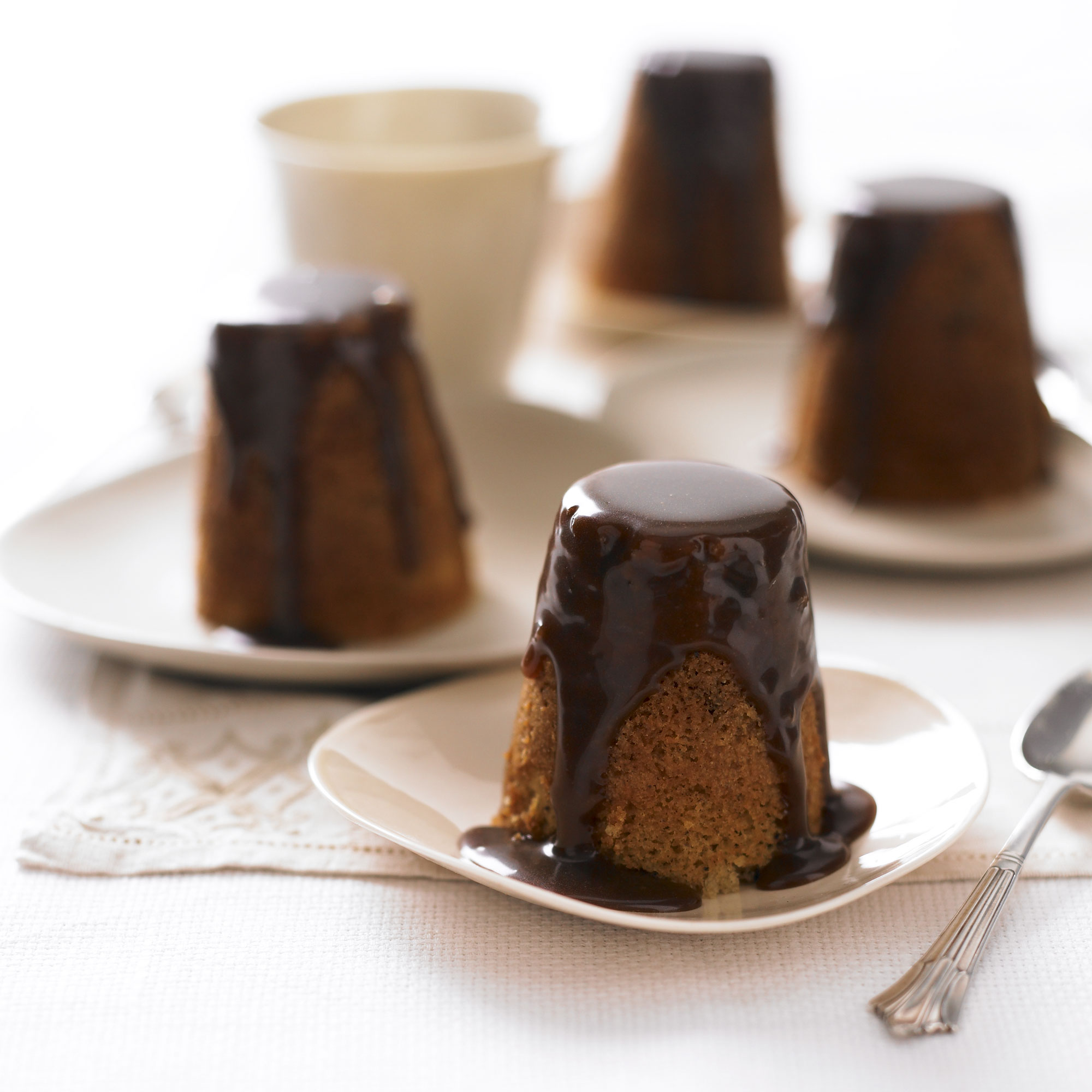 Ingredients
for the sauce
125g (4½oz) dark soft brown sugar
60g (2½oz) unsalted butter
150ml (¼pt) double cream
½tsp sea salt flakes
for the sponge
85g (3½oz) stoned dates, chopped
½tsp bicarbonate of soda
40g (1½oz) unsalted butter, softened
85g (3½oz) caster sugar
2 large free-range eggs
½tsp pure vanilla extract
125g (4½oz) self-raising flour, sifted
you will need
6 x 150ml (¼pt) dariole moulds
Tip
The beauty of this mixture is that it will keep in the fridge for four days in a sealed container, so you can bake the puddings whenever you like.
Preparation
To make the sauce, place the sugar, butter, cream and salt in a saucepan and heat gently, stirring, until the sugar has dissolved and the sauce is smooth. Set aside to cool and thicken.

Heat the oven to 180C, 160C fan, 350F, gas 4. To make the sponge, place the dates in a bowl with the bicarbonate of soda and 150ml (¼pt) boiling water. Stir well and set aside.

Beat the butter and caster sugar in a food processor until fluffy. Beat the eggs with the vanilla extract and pour in a steady stream on to the butter and sugar, beating continuously. Don't be alarmed if the mixture looks curdled at this stage - it will all come together when you add the flour.

Add the flour and beat well, then pour in the dates and all the liquid; mix well. Butter the dariole moulds and divide the mixture evenly between them - they should be just over two-thirds full. Place on a baking sheet in the middle shelf of the oven.

Bake for 15 to 20 minutes or until well risen and golden brown. Press the centre of the puddings lightly; if the sponge springs back, they are cooked. Remove from the oven and allow to rest for 5 minutes before turning out on to 6 warmed plates. To serve, pour a couple of spoonfuls of the sauce over each pudding and serve the rest in a jug.
© Copyright woman&home 2015