How To Roast Chicken (with a twist)
Make your Sunday roast extra special with our sage, thyme and lemon stuffing, and gorgeous white wine gravy. Our step-by-step guide is easy to follow and will leave you feeling like a culinary Queen as you present a beautiful roast chicken with a twist to your family.
Preparation time: 30 minutes
Cooking time: 1 hour 15 minutes
Serves 4
For the stuffing
40g (11/2 oz) butter
1 small onion, chopped
1 garlic glove, crushed
75g (3oz) white breadcrumbs
2tbsp chopped parsley
2tbsp chopped fresh sage
1tbsp chopped fresh thyme
Finely grated zest and juice of 1 meon
1 free-range egg yolk
For the chicken
1 free-range corn-fed chicken
2 lemons, cut into wedges
2 red onions, cut into wedges
A few sprigs of sage and thyme
1tbsp poultry seasoning
For the gravy
200ml (7fl oz) white wine
300ml (1/2 pint) chicken stock
2tbsp cornflour mixed with 2 tbsp cold water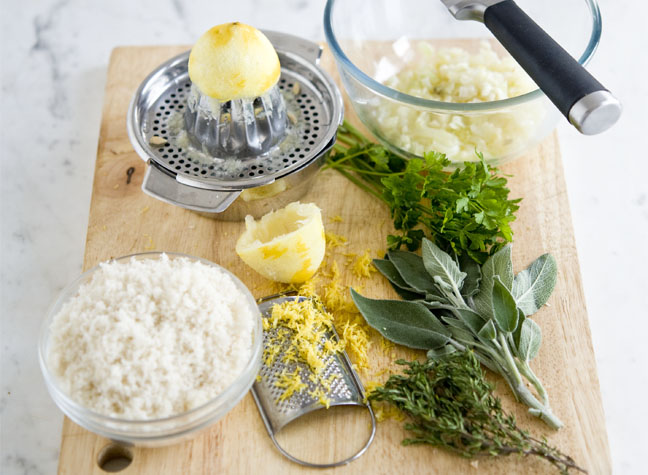 1. To make the stuffing, heat the butter in a pan and fry the onion and garlic for 3 to 4 minutes until softened. Add the breadcrumbs, chopped parsley, sage and thyme, and the lemon zest and juice. Season well and stir in the egg yolk to make a soft mixture.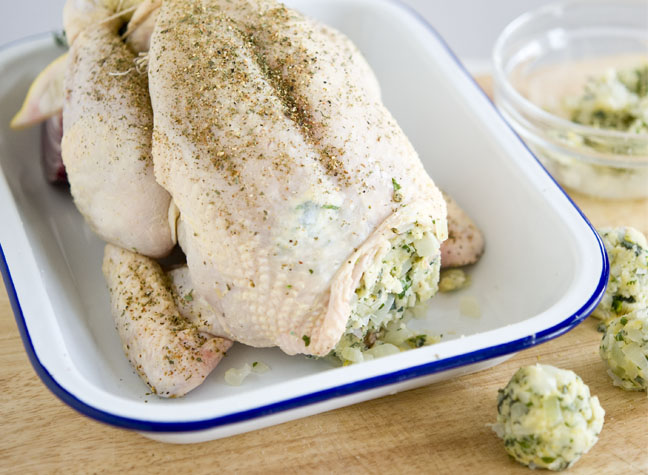 2. Heat the oven to 200 C (180 C fan, 400 F, gas 6). Lift up the loose chicken skin at the neck end of the chicken and ease your fingers between the skin and chicekn breast. Spoon in one third of the stuffing. Tuck the loose skin under the wing tips to secure. Roll the remaining stuffing into balls and set aside.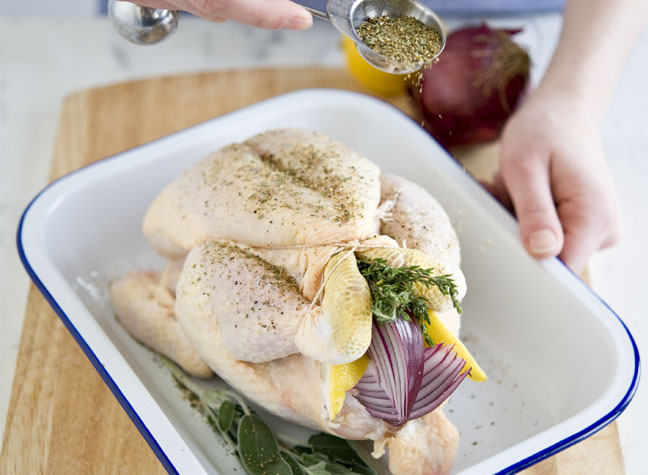 3. Push the wedges of 1 lemon and 1 red onion inside the chicken cavity with a couple of sprigs of sage and thyme. Put in a roasting tun, sprinkle with the poultry seasoning and pour in the wine and 450ml (15fl oz) water. Roast for 45 minutes, then add the remaining lemon and onion, and roast for a further 30 minutes.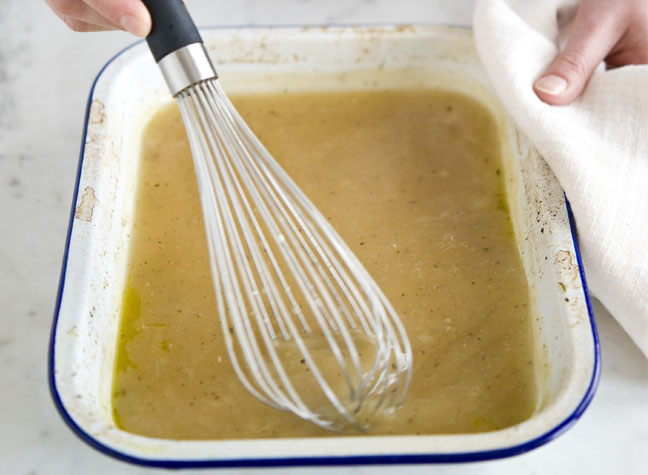 4. Roast the stuffing balls alongside the chicken for the last 30 minutes. put the chicken on a serving plate and cover with foil. Place the roasting tin on the hob and add the chicken stock and the cornflour mixture. Whisk until thickened, pour into a gravy jug and serve with the chicken and stuffing balls. To test if the chicken is cooked, insert a knife into the thickest part of the flesh - the juices should run clear; if the juices are pink, roast a little longer. To carve, cut off the legs (cut into these between the leg joint) and wings, and slice the breast meat.
Per serving: 497 calories, 13f fat, (6.5g saturated), 28g carbohydrate