Easy mango and orange cooler, made with fruit juice, is the perfect refreshment on a hot day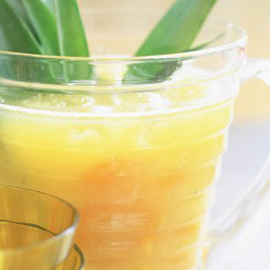 Ingredients
ice cubes
300ml (½pt) mango juice
150ml (¼pt) fresh orange juice
500ml (18fl oz) sparkling water
orange slices, to decorate
Tip
If you don't have mango juice, use 2 peeled and liquidised fresh mangoes and increase the water slightly
Preparation
This refreshing tropical drink is so easy to make with fruit juice, or blended fresh fruit. You could even experiment with mixing different fruit juices in the same proportions to use what you already have in the fridge.
For the mango and orange cooler:
Fill a jug with ice cubes, and pour over the mango juice, fresh orange juice and sparkling water. Mix and decorate with orange slices. Serve immediately.