We often find ourselves asking the age-old question during the festive season... Is my turkey big enough?
Working out how many people your turkey will feed can be stressful, particularly when you have a million other things to think about in the build up to Christmas. Christmas dinner is all about planning and getting your timings right.
If you're not prepared, you might end up with undercooked turkey, burnt veg and soggy Brussels sprouts (or you might end up eating VERY late in the day) and no one wants to be held responsible for ruining Christmas.


Worse still, if you end up with a wrong size turkey, you could end up with miniature portions or so much leftover that it will end up in the bin.

We've simplified things for you so you can work out exactly how big a turkey you'll need to feed all your guests, plus a little to have leftover for the next day (because we all love leftovers on Boxing Day!)
How can I work out how many people my turkey will feed?
Turkeys come in all sizes - you can even get up to a 9kg bird, which will happily serve a huge group of more than 24 people, with plenty leftover even for the next day. If you'll only be celebrating Christmas day with a couple more people, then there's a turkey for you too, without mounds of meat leftover for days after.
Once you've worked out how many people your turkey will feed, why not try our
Christmas turkey recipe
for the best way to prepare it this Christmas. If you want to create the perfect festive feast, we've got all the
Christmas recipes
you might need to go with your turkey, including starter recipes, side dishes and plenty of show-stopping desserts too!
What size turkey will I need?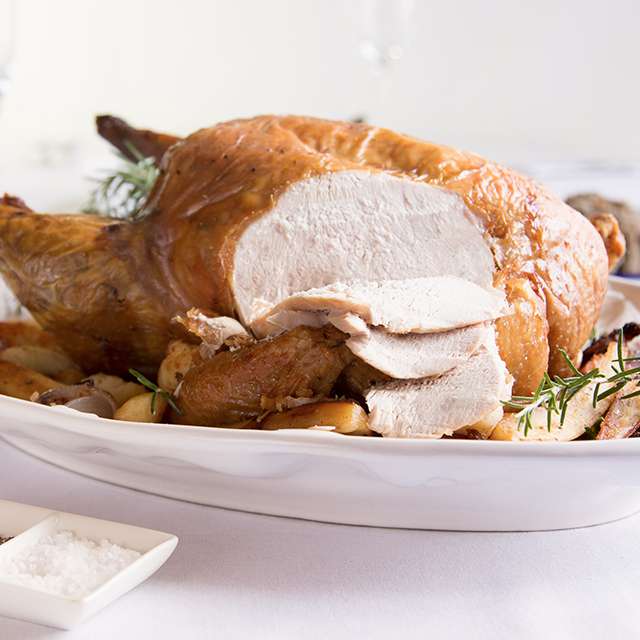 Here's how much to buy, depending on the size of your gathering:
- A 1.5-1.75kg/3-4lb bird will feed 3-4 people
- A 3-3.5kg/7-8lb bird will feed 7-9 people
- A 4-4.5kg/9-10lb bird will feed 10-12 people
- A 4.5-5kg/10-11lb bird will feed 12-15 people
- A 5.5-6.5kg/12-14lb bird will feed 16-18 people
Continued below...
- A 6.75-7.75kg/15-17lb bird will feed 20-24 people
There you have it - your easy guide to figuring out how big a turkey you need to buy for Christmas this year!