This traditional British coffee and walnut cake is a perfect choice for afternoon tea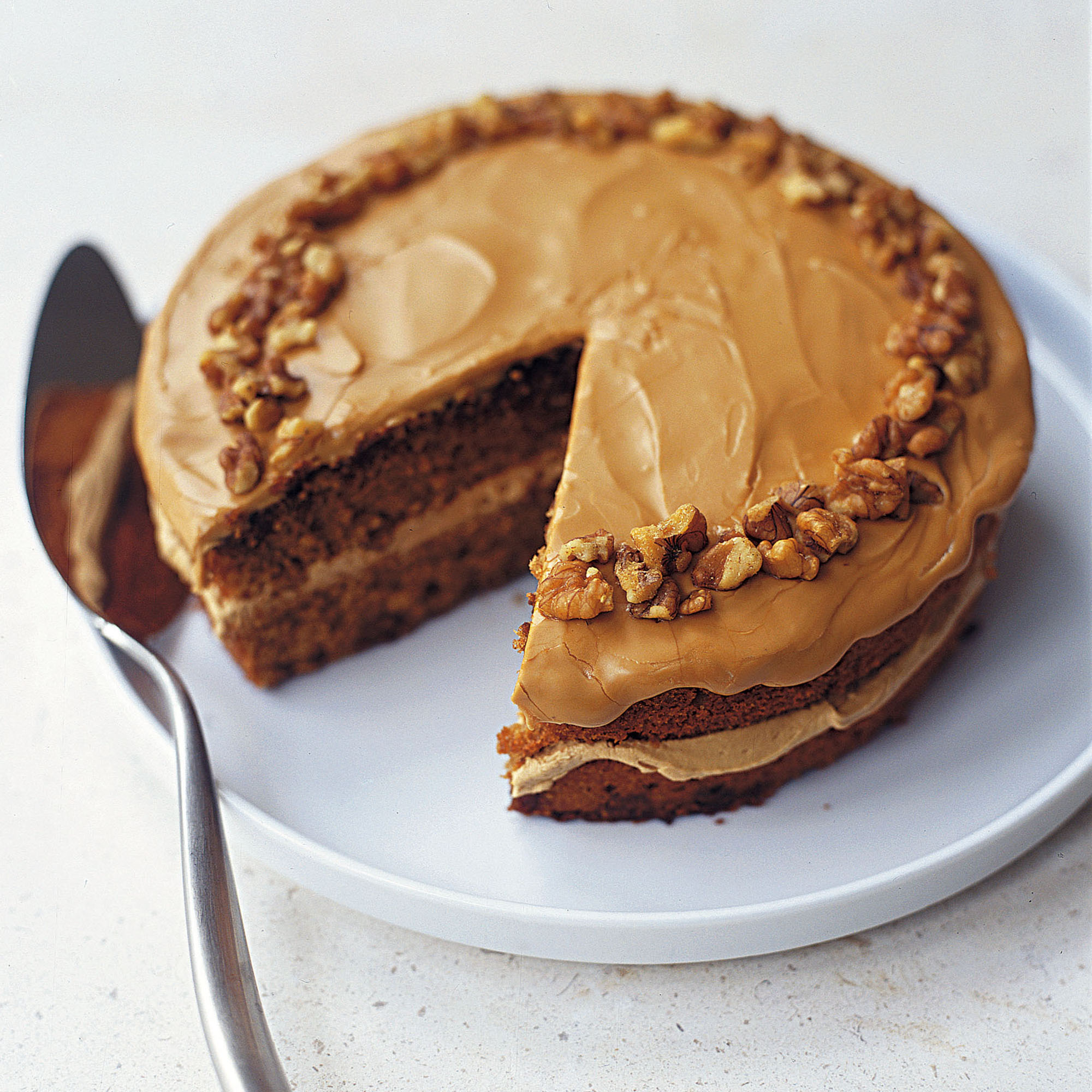 Ingredients
Preheat oven to 180 C, 160 C fan, 350 F, gas 4. Place the butter and caster sugar in the bowl of an electric mixer and beat for 5 minutes until very pale and creamy.

Gradually add the eggs a little at a time, beating continuously until all incorporated.

Sift together the flour and baking powder and gentle fold into the butter mixture along with the dissolved coffee and the walnuts.

Divide the mixture evenly between the tins, smoothing the top with a palette knife. Bake on the centre shelf of the oven for 20 to 25 minutes or until well risen and golden brown. The cakes can be frozen, un-iced, for up to one month. Defrost and ice before serving.

While the cakes are baking, make the coffee syrup. Place all the ingredients in a bowl and stir until it has all dissolved.

Pour the coffee syrup evenly over both sponges while they are still in the tins. Allow the cakes to cool completely before turning out on to a wire rack.

To make the coffee buttercream, place the softened butter in the bowl of an electric mixer, add the sifted icing sugar and dissolved coffee, and beat until smooth. If the icing is a little stiff then add a few more drops of boiling water until you have a spreadable consistency.

For the finishing touch, make the glacé icing. Place the icing sugar and dissolved coffee in a bowl and beat until smooth, adding more boiling water until you have a glossy, spreadable consistency.

To assemble the cake, place one cake on a large plate, spread over the coffee buttercream and sandwich with the other cake. Be careful not to let it break.

Spread the glacé icing over the top and decorate with the walnut pieces.
Preparation
Freeze ahead
150g (5oz) unsalted butter, softened
150g (5oz) caster sugar
3 large eggs, beaten
150g (5oz) self raising flour
1/2tsp baking powder
2tsp coffee granules dissolved in a little boiling water
50g (2oz) walnuts, roasted and chopped
For the coffee syrup
2tbsp light Muscovado sugar
1tbsp coffee granules mixed with 2tbsp boiling water and 1tbsp Camp coffee essence
for the coffee buttercream
50g (2oz) unsalted butter, softened
100g (4oz) icing sugar, sifted
2tsp coffee granules mixed with 1tbsp boiling water
for the coffee glacé icing
75g (3oz) icing sugar, sifted
2tsp coffee granules mixed with 1tbsp boiling water
75g (3oz) walnut pieces for decoration
You will need
2 x 20cm (8in) loose-bottomed sandwich tins, greased and base-lined with baking parchment paper