In a revealing keynote speech at the Children's Global Media Summit in Manchester this week, Prince William admitted that, just like any other parents with young children, he and Catherine are struggling to keep up with the challenges of modern technology.
"Parents like Catherine and me are raising the first generation of digitally-immersed children," he told creatives, policymakers and thought-leaders who had assembled from around the world to explore the impact and future of media and technology for the post-millennial generation.
According to William, the Duke and Duchess of Cambridge are optimistic that technology can have a positive impact on their children and think we should 'celebrate and embrace' the changes it brings. "Social media holds the promise for children who can feel isolated to build and maintain friendships," he said. "Digital media is seeing today's young people develop a passion and capacity for civic involvement that is without parallel in human history."
But the couple do have concerns. "How do we protect family time and teach our kids about actual connection, when all their communication is through their phone?" William asked. "How do we convince our children to go outside and be active and fit, when all they want to do is play online?"
The Duchess of Cambridge, who is expecting the couple's third child in April, was also a guest of honour at the event. Clad in a striking £450 red tunic dress from Goat, she spoke about the importance of continuing to raise awareness of mental health issues, saying, "People are so worried about what they say, they aren't saying anything at all, and what we've found from speaking to people is it's so good to have conversations."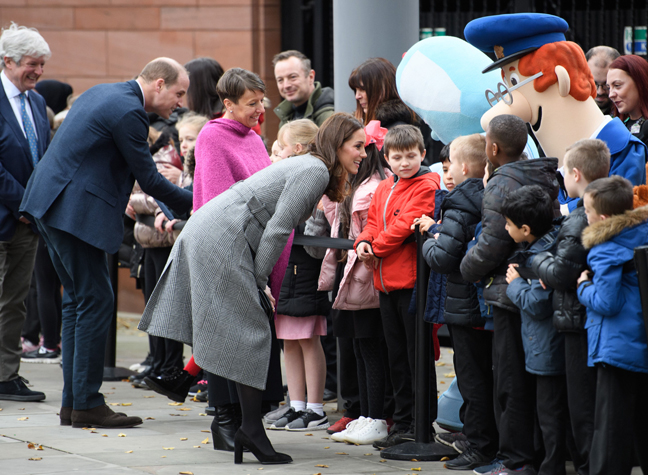 Continued below...
The Cambridges also sat in on a 'stepping out' session which gave children the chance to have their say on new TV programmes, watched a film made by 14-year-old Josh Gale about his experience of OCD and spoke with the children about mental health. And as Kate chatted to schoolchildren assembled outside BBC's Bridge House, sporting a checked L.K. Bennett midi coat, William shared the cutest insight yet into Prince George's first year at school. "I went to my boy's nativity play. It was funny," he said. "He was a sheep."