Barack and Michelle Obama are quite literally the definition of the term "power couple". They've gained worldwide attention with their dedication and support for one another, and their ability to have fun while tackling serious global issues.
And now, the presidential pair have said their final goodbyes to the White House in an emotional farewell speech in Chicago last night. In the town where he first declared victory eight years ago, Obama rallied his supporters, asking them to believe in their ability to bring about change, and maintain a belief in a "fair, just, inclusive America."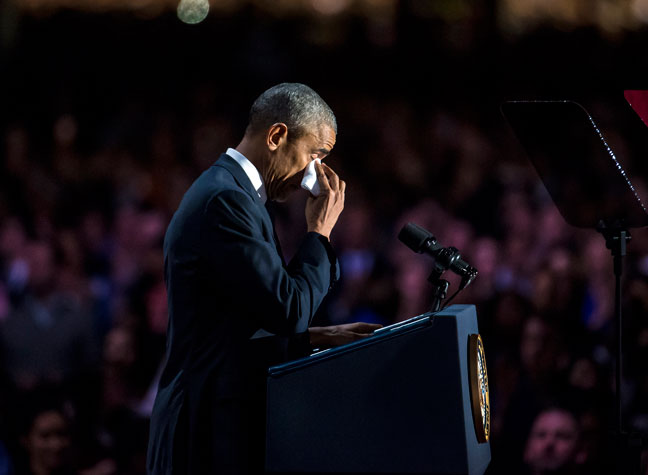 Michelle and Malia Obama watched on as he delivered his emotional speech, leaving his youngest daughter and himself in tears. We're not crying, promise...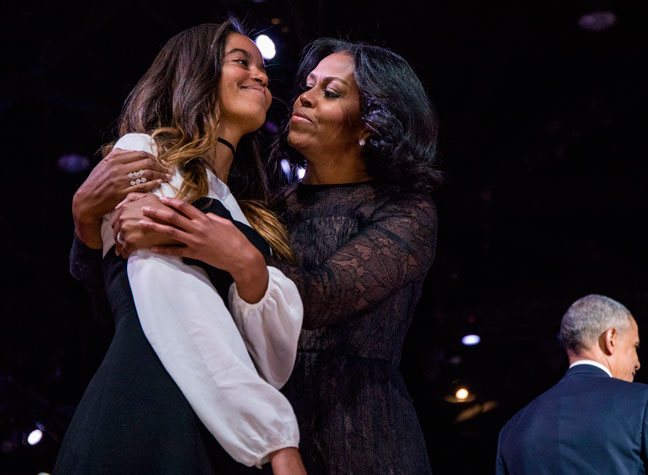 Stevie Wonder reduced another member of the family to tears recently, serenading Michelle with a medley rendition of some of his hits, including 'Isn't She Lovely' and 'My Cherie Amour'. Stevie also changed one of the lines in his songs, singing "You'll always be First Lady in our eyes". The current First Lady was appearing on the American chat show The Tonight Show with Jimmy Fallon, when Stevie appeared and dedicated his set to her.
Michelle and Barack have been fans of the soul singer for as long as they've been together, with Michelle admitting that a love of Stevie Wonder was a prerequisite for them getting together. She admitted, "He had to like Stevie Wonder'.


Obama also left the vice-President Joe Biden in tears as he awarded him with the Presidential Medal of Freedom - the highest honour that can be given to a civilian in the US.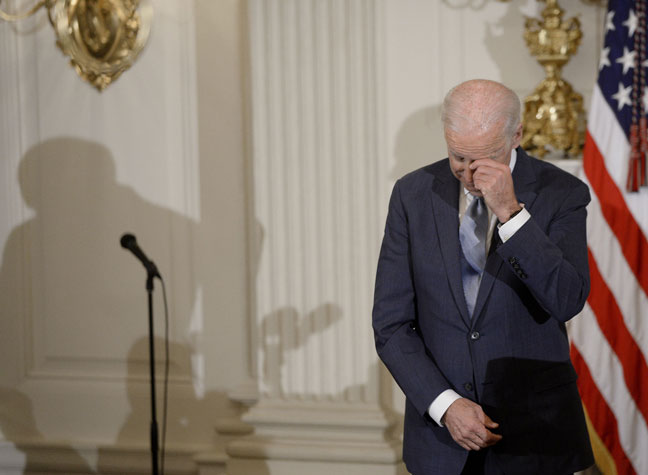 The current president praised his right-hand man for his "love of country and lifetime of service". The pair have long been discussed on the internet for their famous "bromance", and last night, Obama joked that this would be the last time people could mock their close friendship.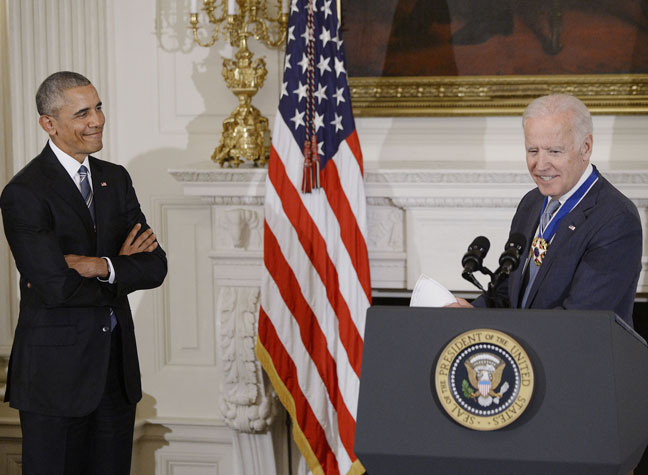 The award was presented to Joe Biden with his wife Jill in attendence, whom he took a moment to kiss after being surprised by Obama with the award. Joe closed the ceremony by emotionally stating the gratitude he feels towards the president - "My President, I'm indebted to you. I'm indebted to your friendship. I'm indebted to your family."
We're going to miss this adorable duo...
So as their time in the White House draws to a close, we take a look back at Barack and Michelle's best moments...
1) Their glamorous wedding photos from 1992. Michelle looked stunning in an off-the-shoulder floral gown and Barack looked snappy in his black tuxedo. The adorable photos show that the couple were quintessential 90's newlyweds. When the pictures were released on Twitter earlier this year, we fell in love with them even more (if that's possible).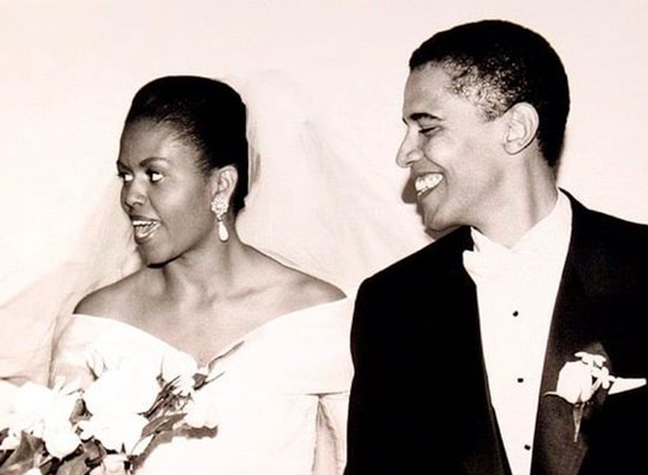 2) When they fist-bumped each other at an election night rally in St. Paul, Minnesota, 2008. Some couples hug, others kiss, but the Obamas showed their support for one another with a motivational fist-bump - and it was amazing.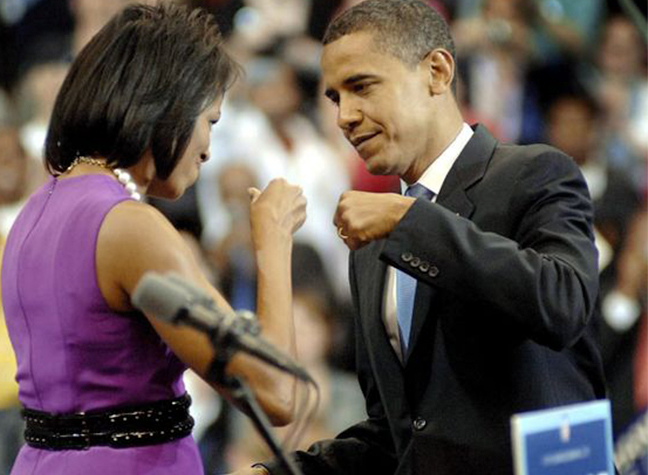 3) When Barack smooched Michelle on the kiss cam at the U.S Men's Olympic basketball game against Brazil in 2012.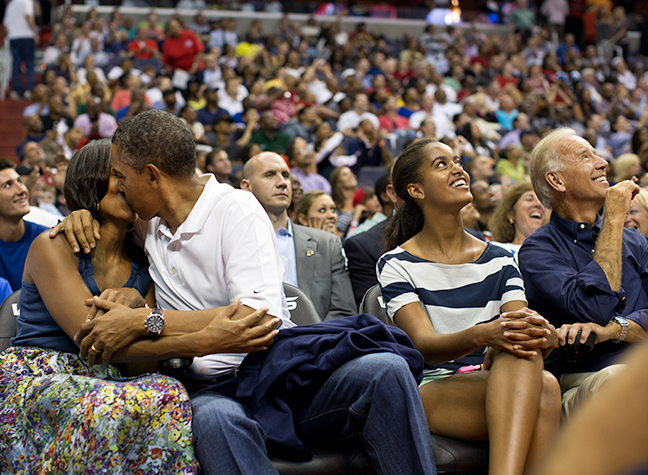 4) That time they danced with Storm Troopers and R2-D2 on Star Wars day....

5) When Barack gave Michelle's outfit a thumbs up to the crowds, before their state dinner in August 2016.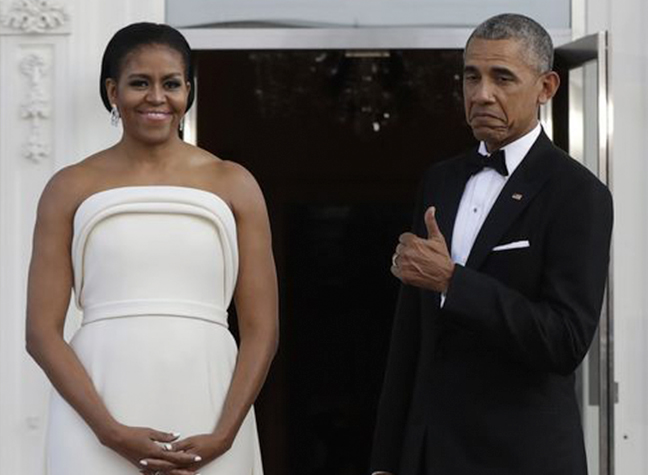 6) The time they shared an intimate moment dancing together in Oslo in 2009, after Barack was awarded the Nobel Peace Prize.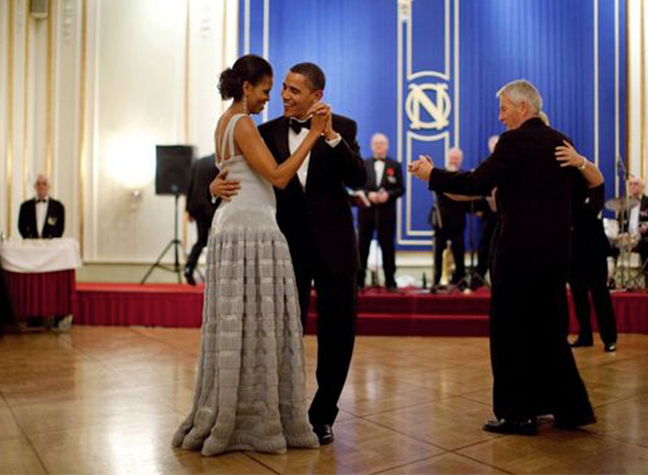 7) When Barack took a crying child off Michelle at the 2011 White House Congressional picnic and magically calmed her down.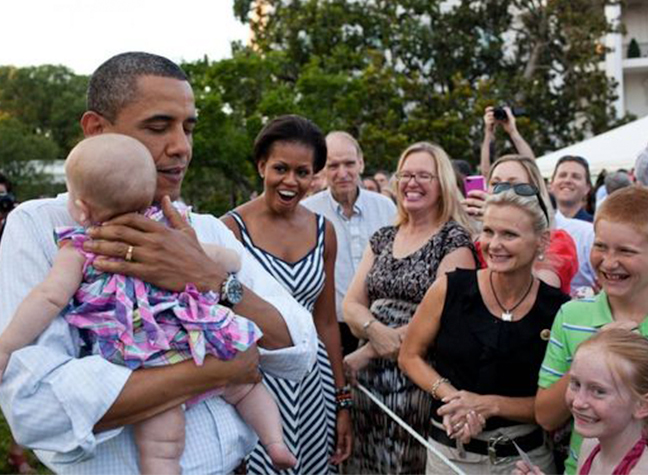 8) The time Obama was shocked when Michelle said Dr Jill Biden was her favourite person in the room.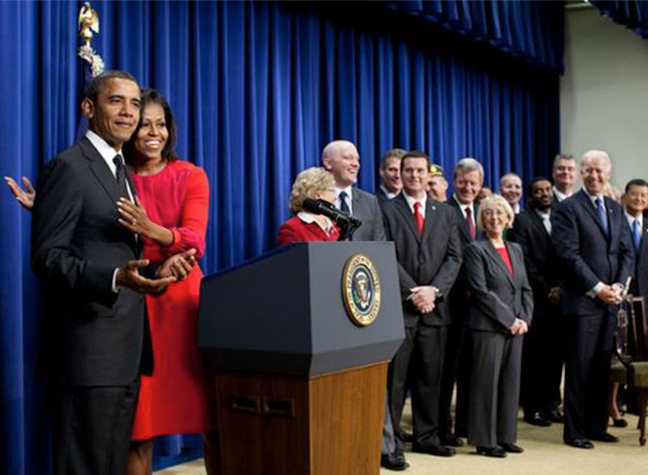 9) When they looked over their hometown skyline in Chicago 2012.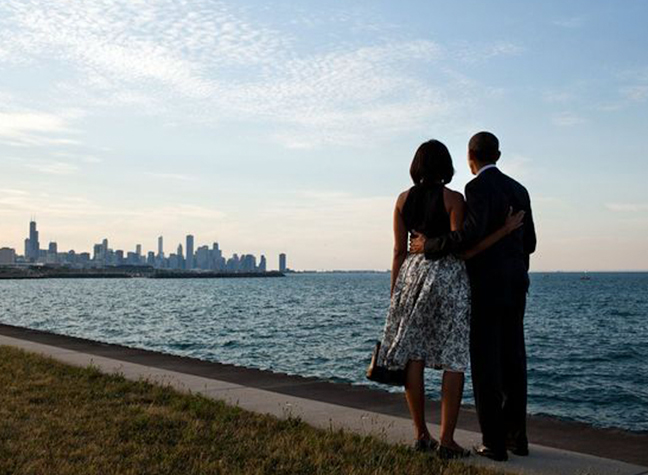 10) The hug they shared moments after the 2012 presidential election. The picture made history on Facebook and Twitter and became the most-shared photo of all time.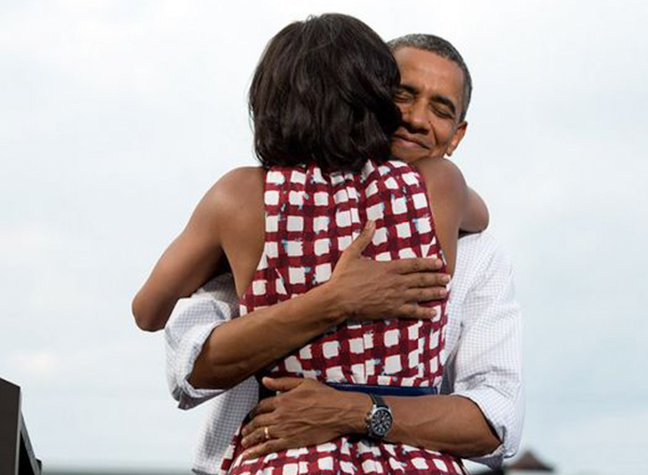 11) When they danced with 106-year-old Virginia McLaurin, in the Blue Room of the White House.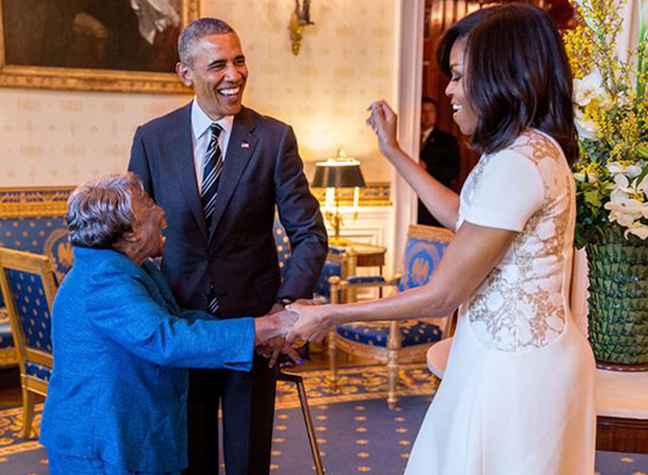 12) And finally, when the chivalrous President gave Michelle his blazer to keep warm and they shared a romantic moment, (while the security guards averted their eyes!)