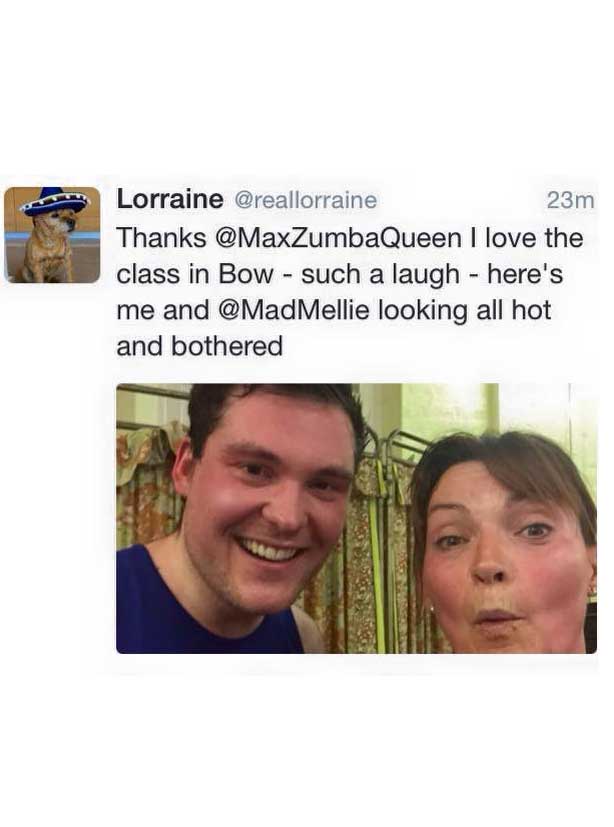 Zumba is one of the biggest fitness programs to spread across the globe. Created by Colombian dancer and choreographer, Alberto 'Beto' Perez it teaches basic dance moves to high intensity music.

It has legions of celebrity fans who swear by it's weight-loss credentials, including Lorraine Kelly who attended a Zumba class by chance on holiday two years ago and loved it so much she started attending one in London. 'It's like a wee nightclub in a church hall', she explained in a recent interview. 'It's a great workout!'

The London class is where she met, Mel Bennardo, a recently qualified Zumba Instructor who was attending his friend Maxine's class.

'I was the only boy when Lorraine joined. She came straight over and said how lovely it was to see a boy in the class and we've got on great ever since,' says Mel.

'I think a lot of people are intimidated by it, but there is nothing to be scared of, you can work to an intensity which suits you. Find the right class and you can really get going, I can usually wring out my t-shirt by the end' he says.

A single Zumba session lasts approximately one hour, including warm up and cool down. In that time you can expect to burn 500-700 calories depending on the intensity of your moves. Lorraine's two stone weight-loss comes after attending 2-3 classes a week for over two years and she feels all the better for it.

'I feel comfortable in myself now, I've lost weight and kept if off', says the daytime television presenter. 'There's nothing better than going into a shop and saying I'll have that size 10 or 12 pair of trousers, instead of the big grey jumper thats covers me up. It's a fantastic feeling.'

During one class Mel worked out they had done almost 40 squats. 'No-one could believe it, you don't notice because your having such fun. If a personal trainer asked you to do 40 squats you probably wouldn't be that interested.'

As-well as squats which sculpt the bum, legs and thighs, the routines incorporate ab crunches and arm toning exercises, depending on how much you lift your legs and move your body. 'It's traditional exercise, just choreographed in a way that you don't notice,' says Mel.

One move that's particularly popular amongst participants is the 'body roll' and 'twist'.

'He does this stuff with hips and I don't know how he does it and I've never seen anyone do it before.' says Lorraine.

Mel insists no-one should be put off from popping along to their local Zumba session for fear of not being able to pick up the moves. His top tip is 'Don't take yourself too seriously.'

'We're not teaching people how to do royal ballet on stage. If you can't do every move perfectly it doesn't matter as long as your moving. It's about burning energy and having fun while your doing it.'

Will you try it?

Keep clicking for even more brilliant exercise classes...