Walking
says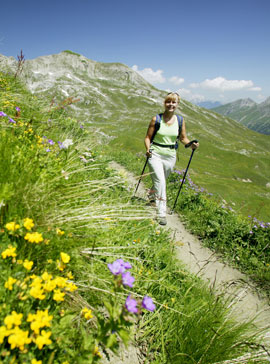 Walking is one of the best ways to stay fit and keep the pounds off - and a great way to see the countryside too! Follow our walking plans to tone up, our walking guide for weight loss and easy steps to rev up your walking routine.

A 30-minute fast-pace walk once a day will burn around 150 calories and help tone up muscles in the buttocks, thighs, hips, shoulders, upper back and abdominals. If you really want to take your fitness and health to another level, measure yourself against fitness walkers who average 12 to 15 minutes per mile. But most of all, enjoy it!
Be inspired to rev up your walking routine with the latest Breast Cancer Care Pink Ribbonwalk pictures or sign up to a 2013 Pink Ribbonwalk today!
Walking collections
Small changes backed up by science can add years to your life
Easy ways to stay moving and motivated when you're walking
See photos from the last Pink Ribbonwalk of 2011
See photos of Breast Cancer Care's Pink Ribbonwalk at Cholmondeley Castle & Cheshire
See photos from the Scone Palace and Perthshire Pink RibbonWalk for Breast Cancer Care
Want to step up your walking regime and trim up too? Discover our top tips
See photos from the Harewood House Pink RibbonWalk for Breast Cancer Care
Get fit and lift your mood with this simple power walking plan
Follow our simple walking plan to build fitness and lose weight