Events Diary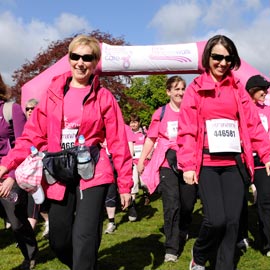 Exclusive Liz Earle evening - Nationwide throughout February
Celebrate the launch of Liz Earle Naturally Active Haircare with a fabulous shopping evening at John Lewis stores nationwide. Tickets cost £15 and guests will receive a pampering goodie bag filled with Liz Earle treats, worth over £50.
Click here for more details and to book up
Pink Ribbonwalk 2011 - May/June

Take the 10 or 20-mile option at one of these beautiful locations...

Scone Palace and Perthshire
Saturday 14 May

Blenheim Palace & Cotswolds
Saturday 21 May

Cholmondeley Castle & Cheshire
Saturday 4 June

Petworth House & South Downs
Saturday 11 June
To register to walk this year, click here
In the meantime, browse our galleries of photos from this year's successful walks!
See Petworth House Pink Ribbonwalk photos
See Scone Palace Pink Ribbonwalk photos
See Blenheim Palace Pink Ribbonwalk photos
See Harewood House Pink Ribbonwalk photos
Be sure to keep checking back for more news on forthcoming woman&home events coming soon...