Mavis Cheek on being a mum
Alix Walker and Sian Merrylees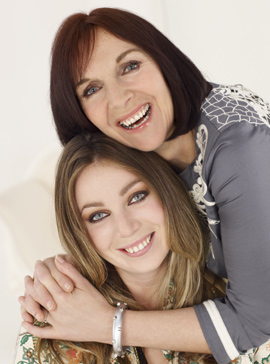 Author Mavis Cheek with her daughter, Bella
Bestselling author Mavis Cheek lives alone in Wiltshire. She separated from her husband, painter Basil Beattie, when their daughter Bella was nine.

I was a bit of a latchkey kid and I was determined that Bella wouldn't grow up that way. Writing allowed me to work from home, so I was there when she got back from school. We've always been close.

Bella was an easy and sweet-natured child, but her teenage years were hard. She wouldn't work at school; she didn't like my boyfriends and I didn't like hers. Then she went travelling to Australia. It was the making of her. Now I'm more relaxed and have less to prove, and she has grown up immensely.

We always have fun together. A few years ago we went to a detox spa in Budapest for Christmas. Bella's luggage didn't arrive, so she spent the whole trip in a mini skirt and boots! Plus our spa was very strict and only served gruel, so we rebelled and smuggled a large bottle of vodka into the room and had a large drink every night!
Bella Beattie lives in Hampshire with her boyfriend Ben Wood, and works as an administrator for a museum project.

Mum is wonderfully positive and pragmatic, and doesn't let negative events affect her for long. She's taught me how to let go of things.

Having two very successful parents is hard. I might have wanted to be a writer or an artist, but obviously there's a lot more pressure on me to live up to their success.

I do sometimes worry that Mum is alone. But she's so independent I know she isn't hanging around waiting for me to visit.

Amenable Women by Mavis Cheek (£7.99, Faber & Faber), is out in paperback in April.