Perfect Harmony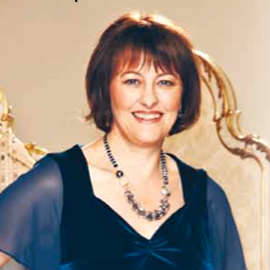 Choral singing is powerful stuff - the stirring sound and shared sense of purpose can lift spirits and raise smiles. "I've been a member of Amersham A Cappella for six years and can't imagine life without it," says Sue Lewis, 51, who lives in Amersham, Buckinghamshire, with her husband, Mark, and their three children, Andrew, 25, Claire, 23 and Katy, 16.

The group is made up of 60 talented ladies, mostly working mums, who sing in barbershop style, where the only instruments used are their voices. Their unique sound of four-part close-harmony singing has made them one of the top choruses in Britain today, but performing at this level means the ladies need to look as good as they sound.

"We take part in national and international competitions, and have even been asked to perform at a choral celebration in Hawaii," says Sue. "But we've had our show costumes for years and, to be honest, they're looking a bit tired and they're not washable!"

With club funds already stretched to breaking point, buying 60 new outfits was out of the question. So when the chorus read about the P&G Champion Mums' Foundation awards, offering practical help for mums to make small but meaningful changes in their lives, they knew they had to apply.
"It was just the helping hand we needed, and there was a big whoop and a cheer when we discovered we'd been successful," says Sue.

The bursary award from P&G, the Proud Sponsor of Mums, means the ladies can look forward to wowing their audiences in beautiful dresses and jewellery that will stand the test of time. And it's a welcome change for the group to be on the receiving end of a donation as they often perform for free at charity events, local fundraisers and community projects.

"We're so excited about the dresses," says Sue. "We put our hearts and souls into singing and this is a real confidence boost."