Ribbon Walk sponsorship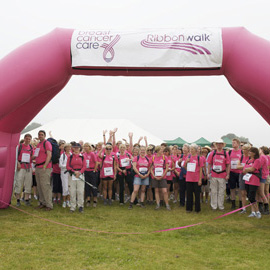 Fiona Curry, 39, is married. She walked 20 miles with her friend Kim at Harewood. They both raised over £250 for Breast Cancer Care.
"I've done fundraising events in the past but since setting up my own collection page online at Just Giving (justgiving.com), they've become so much easier.
I first started raising money for charity after my friend Kim was diagnosed with breast cancer. Thankfully, she's been given the all-clear but it has encouraged us to take part in charity challenges every year, not just to raise money for a good cause but to celebrate that she's still with us today.
We've been taking part in the Ribbon Walk for two years. Although they're very emotional days, we also have a lot of fun and laughter. This year was particularly poignant because Kim was celebrating being clear of cancer for five years. We took Champagne and sat down at the 12-mile point for a glass to spur us on.
I collected all my sponsorship online because, with friends all around the country, it's the most convenient way for everyone to donate. Breast Cancer Care sends you simple guidelines on how to set up a page with Just Giving, and you can upload your own pictures and personalise it. It's so straightforward and even I - a complete technophobe - found it incredibly easy. You can then email the web link to everyone in your address book, or you can post it on Facebook.
It can be hard asking the same friends for money every year but using Just Giving is a more indirect way of approaching them, because they're not under pressure to sponsor you there and then - although I'm always surprised at how generous people are. It seems everyone knows someone who's been affected by cancer."
Find out how to sign up for our Ribbon Walks
See pictures of the 2009 Ribbon Walks