DVD: Midnight in Paris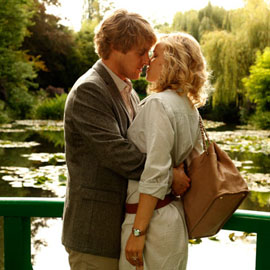 Woody Allen's latest offering is a film that delights and enthralls in equal measure, marking Allen's long-awaited return to glory.
The nostalgic fantasy follows Gil (Owen Wilson) and Inez (Rachel McAdams) on a trip to Paris with Inez's parents. Gil is a struggling screenwriter, who falls in love with Paris and its fascinating history. Inez, however, does not share his passion or any part of his dream.
With the couple at breaking point, a lone walk through the Paris streets at midnight opens the door to a world in which the boundaries between reality and fantasy are smudged, providing a journey through time, and self-awakening for the characters involved.
With brilliant performances from Wilson, Adams and Marion Cotillard as Picasso's charismatic mistress - as well as a cameo by French first lady Carla Bruni - this is a truly charming film.

Out now on DVD
Click to buy your copy of Midnight in Paris